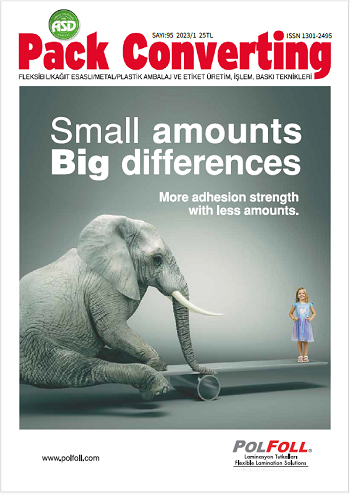 Pack Converting that is published two issues in Turkish has an intensely professional content and is distributed to about 1.300 people including top executives and technical and administrative representatives of companies that produce and use packaging, public organisations related to packaging, people and organisations that carry out training and academic work. The magazine which includes both translations and original articles from local and foreign sources is delivered to certain addresses and distributed in related local and foreign exhibitions and similar places. The number of printed and delivered magazines can rise up to 2.000 at times when there are important exhibitions.
Periods:
2023-1 (Publish in May 2023 ) ( Last date for sending AD's: 22 March 2023)
2023-2 (Publish in November 2023) ( Last date for sending AD's: 22 September 2023)
Price:
Inner pages / full page € 1,200
Inner pages / half page € 700
Full Page Advertisement Size:
20,5x29 cm
Note: Advertising fees must be paid in advance.
For more information about Advertisement and Subscription please contact: asd@ambalaj.org.tr
Click to view and read the magazines